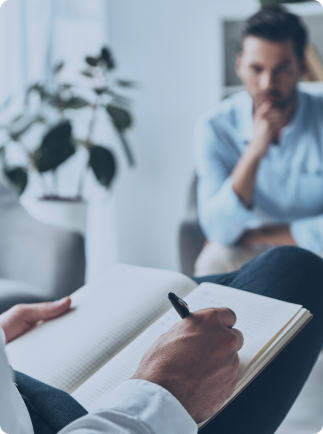 Psychiatry Department
At AHCH, we understand the significance of mental health and are dedicated to providing comprehensive care and support to individuals facing psychiatric disorders.
Our mission is to promote hope, health, and happiness by offering specialized counseling and treatment services.
Our expert team of psychiatrists and mental health professionals is committed to addressing a wide range of psychiatric conditions.
Your mental health matters to us, and we are here to support you every step of the way.
Evaluation and Treatment
Evaluation and Treatment of Various Disorders
Depression: We offer comprehensive assessments and therapeutic interventions for individuals experiencing depression.
Anxiety: Our professionals provide evidence-based treatments to manage and alleviate anxiety-related symptoms.
Schizophrenia: We offer personalized treatment plans for individuals dealing with schizophrenia to improve their quality of life.
Bipolar Disorder: Our team provides support and treatment to help manage mood swings associated with bipolar disorder.
Suicidal Tendencies: We prioritize the safety and well-being of patients experiencing suicidal thoughts and provide appropriate interventions.
Unipolar Depression: Our professionals assist individuals in managing symptoms of unipolar depression.
Geriatric Care: We offer specialized care for elderly patients, including the diagnosis and treatment of dementia, such as Alzheimer's disease.
Comprehensive Mental Health Services
Acute Psychiatric Care
In emergencies, our psychiatric department is equipped to handle acute cases, providing immediate and compassionate care to stabilize patients and refer to higher centre.
Evaluation and Treatment of Various Disorders
Our team specializes in diagnosing and treating various psychiatric disorders like depression, anxiety, schizophrenia etc
Treatment of Sleep Disorders
Sleep disorders can significantly impact one's overall well-being. Our experts evaluate and address sleep-related issues to improve sleep quality and overall mental health.
Counselling and Psychotherapy
Our skilled counselors and therapists provide counseling and psychotherapy services to individuals and families, fostering emotional well-being and resilience.
Stress Management
We offer stress management programs to help individuals cope with stress and develop healthy coping mechanisms.
Headache and Epilepsy Management
Our psychiatrists collaborate with other medical specialties to manage and treat psychiatric aspects related to headaches and epilepsy.
Menopausal Depression
We address mental health concerns during menopause and provide support to women experiencing depression during this transitional phase.
Holistic Approach to Mental Health Care
Our team is dedicated to addressing not only the symptoms but also the underlying factors contributing to mental health challenges. We aim to empower individuals with the tools they need to lead fulfilling lives.
FAQ
Psychiatry is a medical specialty focused on the diagnosis, treatment, and prevention of mental health disorders. Psychiatrists are medical doctors who can prescribe medication and provide therapy.
Common disorders include depression, anxiety, bipolar disorder, schizophrenia, and eating disorders.
If you're experiencing persistent emotional or behavioral issues that interfere with daily life, it's advisable to consult a psychiatrist.
Psychiatrists are medical doctors who can prescribe medication, while psychologists focus on therapy and counseling.
Yes, many mental health conditions can be treated with therapy, lifestyle changes, and other non-pharmacological interventions.
Yes, child and adolescent psychiatrists specialize in addressing the unique mental health needs of young people.
Sessions are typically confidential, but there are legal and ethical exceptions, such as if there is a risk of harm to oneself or others.
Yes, psychiatrists can provide treatment and support for individuals struggling with addiction.
The duration of treatment varies based on the individual and the nature of the mental health condition.
The first appointment may involve a comprehensive assessment of your mental health history and current concerns.
Book an Appoinment
Thank you for your connecting us for appointment. We value your concern and we will revert back shortly to confirm your appointment details.