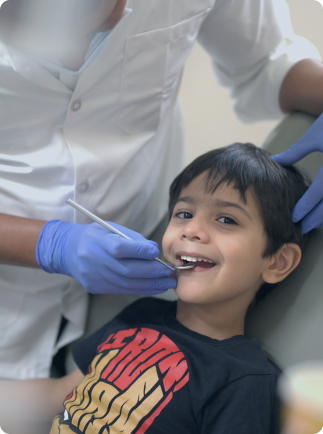 Dentistry Department
At Amba Health Centre & Hospital (AHCH), we take pride in providing comprehensive and specialized dental care services. Our dedicated team of experienced doctors and assistants is committed to upholding the vision and mission of AHCH.
Located Gandhinagar, Gujarat, we offer state-of-the-art facilities and follow complete sterilization protocols to ensure the highest standards of oral healthcare for our patients.
What sets Amba Health Centre & Hospital apart is our holistic approach to treatment. In certain cases where allopathic medications are not suitable, we integrate homoeopathy and Ayurvedic approaches under professional guidance.
Our Dental Department Features
Advanced Dental Units and X-ray Facilities
We have five fully equipped dental operatories that utilize the latest technology to provide efficient and effective dental treatments. Our dental units are complemented by modern x-ray facilities, enabling accurate diagnoses and treatment planning.
Focus on Sterilization
We prioritize patient safety and maintain stringent sterilization protocols. Our advanced sterilization machines, including the Ultrasonic Cleaning Bath and B-Class Autoclave, along with sealed sterile pouches for all instruments, guarantee optimal sterilization and hygiene.
Thorough Diagnosis and Treatment Planning
Our dental specialists provide comprehensive consultations, ensuring accurate diagnoses and personalized treatment plans tailored to your specific needs.
Oral Health Care and Prevention
We offer guidance on oral health care practices and preventive measures to maintain optimal oral hygiene and prevent dental problems.
Oral Prophylaxis (Teeth Cleaning)
Our dental team performs professional teeth cleaning to remove plaque, tartar, and surface stains, promoting healthy teeth and gums.
Conservative Procedures
We treat decayed teeth using restorative materials such as tooth-colored glass ionomer cement and composite, ensuring both functionality and aesthetic appeal.
Endodontic Procedures
Our skilled endodontists specialize in root canal treatments of all challenging teeth and also post and core procedures, restoring the health and function of damaged teeth.
Tooth Extractions, Disimpaction, and Minor Surgical Procedures
Our team is experienced in performing tooth extractions, handling impactions, and conducting minor oral surgical procedure where necessary.
Periodontal Treatment
We offer various periodontal treatments, including flap surgeries, gingivectomy, crown lengthening procedures, vestibular extension surgery, and frenectomy, addressing gums and periodontium related issues.
Replacement of Teeth
Our range of tooth replacement options includes fixed prosthesis such as crowns and bridges of different types (metal, ceramic, ceramic-facing, and zirconia). We also provide removable prosthesis options like partial dentures (simple, flexible, and cast partial dentures), complete dentures, overdentures, and implant-supported dentures.
Full Mouth Rehabilitation
For complex cases involving collapsed bite, multiple missing or decayed teeth, or other factors affecting oral health, our specialists restore and replace teeth using the necessary treatments.
Implant Procedures and Prosthesis
Our experienced implantologists offer implant procedures and prosthetic solutions to restore missing teeth, improving both function and aesthetics.
Team of Specialists
Oral and Maxillofacial Surgeon
FAQ
Dentists are oral healthcare professionals who specialize in diagnosing, treating, and preventing dental conditions. They provide a wide range of services, including dental check-ups, cleanings, fillings, root canals, extractions, and cosmetic procedures like teeth whitening and dental implants.
It is recommended to visit a dentist at least every six months for routine check-ups and cleanings. Additionally, you should schedule an appointment if you experience tooth pain, gum bleeding, bad breath, or any other oral health concerns.
During a dental check-up, the dentist will examine your teeth, gums, and mouth for signs of cavities, gum disease, or other dental issues. X-rays may be taken to detect hidden problems. The dentist will also clean your teeth to remove plaque and tartar buildup.
Dentists strive to make dental treatments as comfortable as possible for patients. With modern advancements in anesthesia and pain management, most dental procedures are relatively painless. Your dentist will ensure you are adequately numbed before any treatment.
To maintain good oral health, follow these practices: - Brush your teeth at least twice daily. - Floss daily to clean between teeth and gums. - Limit sugary and acidic foods and beverages. - Avoid tobacco use. - Visit your dentist regularly for check-ups and cleanings.
Yes, dentists can enhance the appearance of your smile through cosmetic dental procedures. They offer treatments like teeth whitening, dental veneers, dental bonding, and smile makeovers to improve the aesthetics of your teeth.
In a dental emergency, such as a knocked-out tooth or severe toothache, contact your dentist immediately. If it occurs after office hours, some dentists have emergency contact numbers or refer patients to emergency dental clinics.
Yes, dental X-rays are considered safe. The level of radiation exposure during dental X-rays is minimal. Dentists use lead aprons and modern digital X-ray technology to further minimize exposure.
Yes, children should see a dentist for regular check-ups starting at an early age, typically around one year old or when their first tooth appears. Early dental visits help detect and prevent dental issues in children.
Book an Appoinment
Thank you for your connecting us for appointment. We value your concern and we will revert back shortly to confirm your appointment details.